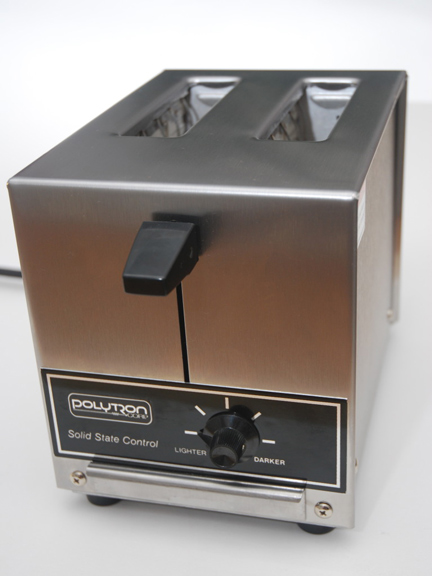 Robin in Chapel Hill bought this model toaster and wrote to say
Just wanted to let you know my new Polytron toaster arrived last week in perfect condition, and the toast we have been enjoying is perfect also. The toaster is attractive and built very well. This should be the last toaster we ever have to buy. I have been trying hard to buy American, even if American-made products are more expensive. I feel they will last, and, in the long run, will be cheaper than Chinese-made products. Also, I would rather spend my money to help keep Americans working rather than send my money overseas where it does nothing for our economy. I have already recommended your web site to several people. Thanks again!
George in Tucson bought this toaster and says This toaster is fantastic. I am happy so far with it. It does what it is supposed to do. There is a very heavy solid clunk when you push the lever down. It has the look and feel of a commercial product (restaurant equipment) not a consumer product. But to me that means it should provide reliable heavy use for many years.


Jerry in Elgin bought this toaster and says ........best toaster we've ever owned.
Doug in Bellefonte, Pennsylvania bought this toaster and wrote to say
Just wanted to drop a note and let you know that the Polytron toaster arrived in good condition yesterday and I am suitably impressed. I am an antique/vintage appliance lover at heart, but this one has restored my faith that there are quality made modern small appliances still available, you just have to get commercial-duty ones to get it. With the number of people that complain that they only get 2-3 good years out of a new pop-up toaster at best, I wish they would be willing to spend the money on a unit like this if they were serious about finding a quality long-lasting unit. In any case, thank you very much for the excellent service in providing this toaster to the general public.
Chuck in Onalaska, Wisconsin bought this toaster and says the toaster : in a word SOLID. this is without question the best built toaster i have ever seen...ever. the stainless sheeting used is on par with the type that is used in the dairy industry for milkhouse equipment (very solid) . i could probably stand on , and jump on without worry . the innerds are very well placed (nothing odd or out of place as is on many) the rack design is very nice and accomidates any item you would wish to toast , muffin , bread, etc. . guide wires are nicely placed. the plunger handle is just the right size , as is the darkness knob . the pull-out tray is perfect . i really love the fact it pulls from the front , not the side . now for the very best . i have never used a better plunge or release _ever_ . when you push down the plunge on this toaster , their is 0 guess work . it is the most positive latch i have ever experienced . and when the toasting is done , and it releases , you will actually say wow , at how it raises . it is a very controled raise . most toasters will actually launch your toast out of the toaster completely . best toaster i have ever owned , hands down.
the service : best ordering experience i have ever had . i make several 100 purchases a year online , and without question , this was the easiest/best ever. you speak with an actual person , not a series of pre posted email messages . when you can call someone , and they actually answer (even very late ) and help you with info. and advise , that matters in a big way . big thank you michael ;-) . just the fact that toaster centeral offers this item is very very nice . i wanted a toaster made in usa , and thanks to toaster central and polytron , now i do . and that makes me smile. very happy.
New Heavy Duty, Wide Slot Automatic Pop Up Toaster
Made in the U.S.A.
Many customers ask for a toaster made in the U.S.A. and some of them want a toaster with wide slots. All of the vintage toasters that I refurbish and sell do not have wide slots.

So, Toaster Central is selling this American made toaster with wide slots. It is very heavy duty built to withstand heavy, regular use. In fact, if you want the four slice version, you'd have to buy it from Hobart.

The slots measure 1.25 inches by 5.5 inches. The footprint is approximately 13.5 inches deep and 6.5 inches wide and the toaster is 9.5 inches tall. It has a stainless steel outer shell, is UL Listed, NSF classified and comes with a 42-inch cord with the proper grounded plug for use with with a 120 volt grounded receptacle. (We can also build this toaster in a 208 Volt and 240 Volt version.)

The heavy duty power box is mounted on the back. And to make sure no one gets hurt, there is a warning that the steel case gets hot. The crumb drawer pulls out from the front and can be removed and washed in the sink.

This is a brand new toaster, direct from the factory, built for you. It comes with a factory warranty for 1 year against failure due to defective parts or workmanship. I have personally used this toaster, and have removed the shell to make sure it can be easily repaired. Still built in America for many years of service.

And, it's been tested by Toaster Central's own Master of Toaster Testing, Dan in Minnesota who tried it not just once or twice, but three times.
New Heavy Duty, Wide Slot
Automatic Pop Up Toaster
Polytron Corporation Elkhart, Indiana
120 Volts A.C. 1400 Watts Made in U.S.A.

Shipping Weight: 14 Lbs.
$285
Purchase Information