Toastmaster Waffle Baker late 1930s
Manufactured for only five years in the late 1930s, this superbly engineered, near commercial quality waffle iron was like a twelve cylinder Pierce Arrow -- absolutely top drawer. Not many people could afford them, so not many were made, and they are quite scarce today. So, it is a rare treat for us to offer one for sale. Back then Uncle Hank presented one as a gift.

This model has one of the most accurate sensitive temperature controllers ever put into a waffle iron. In fact it proved so reliable that the company continued to use it for another 20 years in the later 2D2 model. If your looking for minimalist post war styling choose the 2D2 on the first page, but if you want classic 1930s Art Deco styling the 2D1 is the waffle iron for you.

This model has an easy to manipulate temperature control knob and a large red jewel indicator that is easily visible in the brightest kitchen. This iron makes a full size 7 inch diameter waffle. This model was sold with the Good Housekeeping Seal of Approval.

This low mileage piece is in very good condition.
Manufactured by McGraw Electric Company
Toastmaster Products Division
Minneapolis, Minn. U.S.A.
V-115 W-750 Model 2D1

Shipping weight 10 Lbs.
SOLD
Purchase Information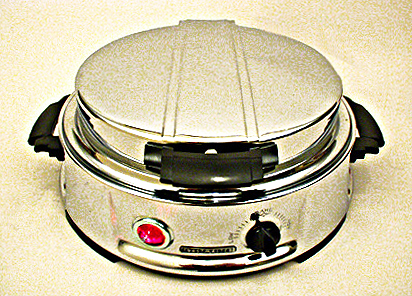 Felicia and Fred in Spencer, New York bought this model waffle iron and wrote to say I just wanted to let you know that the Toastmaster arrived and today we made our first batch of waffle awesomeness. We were on track to buy a commercial waffle maker when I stumbled across your site. As it happens, I'm an artist and my partner is an engineer. Our combined standards tend to be impossibly high, and it's a rare delight to have them met. As the engineer says: this waffle maker was designed before they put a man on the moon. After nearly 100 years of engineering "progress" what we've got to show for it is Facebook and crappy waffle irons. And as the artist says: Gorgeous!!! Thank you for providing such a fantastic service!
David in New Orleans bought this model waffle iron and wrote to say The 2D1 arrived on Friday in beautiful shape. I seasoned it and made a batch of waffles yesterday. It heated up quickly and cooks perfect waffles with absolutely no sticking. It is hard to imagine that from a 70 year-old machine! Thanks.