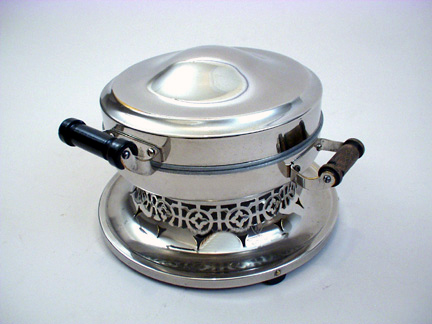 Anna in Sierra Vista, Arizona bought this model waffle iron as a gift to her mom in Lynchburg, Virginia and wrote to say My mom recieved the waffle iron and is really enjoying it. All she could keep saying was, "Anna, this waffle iron is from the 1920's!" She really appreciated the instructions you sent along with the waffle iron as well. Funny story: Last Christmas my mom said that one cannot buy an American Made waffle iron. I took this as a challenge, so everytime I was in a store with Waffle Irons I would look. Unfortunately she was right. So I found your site online and thought it would be a perfect gift for my Mom. Thanks again.
Landers 1920s Dome Top with Pierced Pedestal Base
Made from the mid to late 1920s, this waffle iron features nickel plating and an appealing pedestal base with pierced openwork worthy of the "Roaring '20s". It is pictured in a catalog from that time.

It is non-automatic with very heavy duty heating elements, exceeding today's commercial quality. The sturdy handles are black enamel over turned wood. The pedestal design keeps the base pleasantly cool to the touch.

In very good condition, this one comes with a detachable cord set.

Daniel in Dublin Ireland bought this model waffle iron and wrote to say I am very pleased with my purchase. I am very minimalistic with my Snaidero Italian kitchen, I don't like appliances in view. The vintage waffle iron, being the exception, looks amazing sitting there in the modern design, love it! The waffles coming out of the iron are fantastic, thanks to your cooking instructions included. So far I have only used the Simple Waffle Recipe", when I get some time I will venture something a bit more exotic.
Landers 1920s Dome Top
Landers, Frary & Clark Company
New Britain Conn. Made in U.S.A. 660 watts

Shipping weight: 8 Lbs.
$165
Purchase Information