Westinghouse Sandwich Grill
and Waffle Baker
In the late 1940s and early 1950s, when a Chevrolet had a new look and televisions had round screens, the baby boom was well under way and millions of American families were growing with three, four and five children, and more on the way. With that many hungry mouths to feed, Westinghouse sold this heavy duty model as an automatic sandwich grill that came with accessory waffle grids.
This hunk of chrome measures 14 inches across and makes a waffle approximately 10 inches by 10 inches. The black Bakelite handles are wonderfully sculpted into a leaf motif.
The sandwich grill can be used with the lid closed or when the lid is fully opened, the unit converts into a grill large enough to make up to eight flapjacks at once.
The flat grill plates can be removed, the accessory waffle grids installed for making king size waffles.
This piece is like new, in blemish free condition includes the grilling flats, the accessory waffle grids with their carton. Of course, we include our instructions for seasoning the grids before making waffles the first time, tips for successful waffle baking, and a variety of waffle recipes. This one is good enough to be given as a wedding or anniversary gift.
Westinghouse Sandwich Grill & Waffle Baker
Mansfield, Ohio Made in USA
115 v. 1200 w. Alternating Current Only

Shipping weight 16 Lbs.
$200
Purchase Information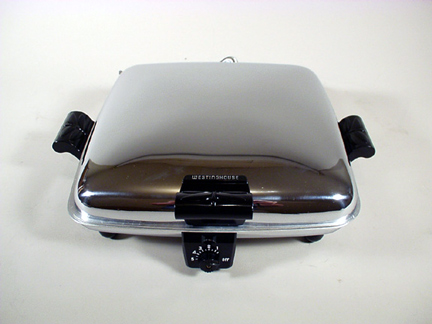 Jill in Irving, Texas bought this waffle iron (and also a Sunbeam) wrote to say Thank you so much for the beautiful waffle irons. We are simply delighted. They both look brand new and make wonderful waffles. We gave the westinghouse to my son and and his family, and they love it, too. They both arrived in plenty of time for Christmas and the packing was amazing. So glad we found you and Happy New Year! (Hope they are moving that snow off your streets.) And oh, yes, my mother is just thrilled to have her old waffle iron come to life!