The Brustolina Tostapane
Square Stovetop Toaster from Italy
This sturdy and well made stove top toaster is brand new and comes from Italy. The top is criscrossed with wires, and the bottom is shaped and perforated. Aside from toasting bread, it is also used for polenta as well as bruschetta. In Italy it is called a brustolina or tostapane.

It measures ten inches square and is made of stainless steel. But the neat part is that the handle slides beneath the toaster for easy storage.

I couldn't find one anywhere in the USA, so I went to Italy and brought back a batch to sell here.
Brustolina - Brand New

Shipping weight: 2 Lbs.
$28 in stainless steel
Purchase Information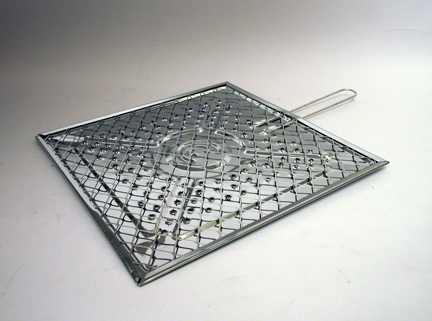 Catherine in Culver City bought this toaster and wrote to say The Square Non-Electric Toaster From Italy is great! I made regular toast on it and it was a big hit. Love it, love it, love it.

I saw this toaster on a cooking show called "Extra Virgin." One of "stars" is from Florence, Italy and he is the main cook. His food always looks good and looks easy to make. He made bruschetta on this very toaster and said this is the best way to make bruschetta because the bread is crispy but still soft on the inside. He also said he got his toaster in Italy. It looked like fun, so, I went on the internet and found the toaster on your website.