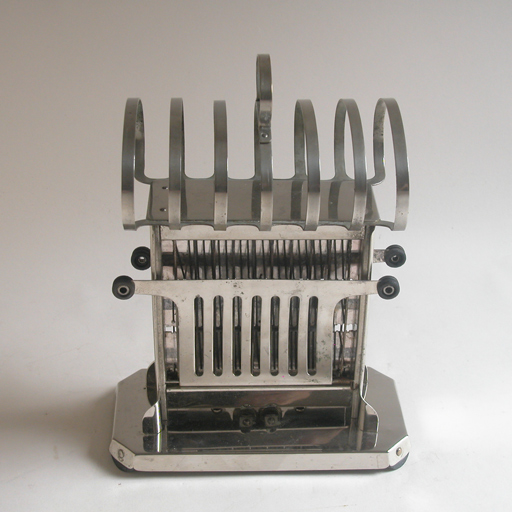 AP in Lisbon, Connecticut bought a toaster like this one and wrote to say just a note to let you know that the toaster is perfect! I love it. Best regards
Early Toaster with Rack Mounted On Top
Electric toasters had been around for less than a generation when this electric toaster was made in New Britain, Connecticut, by a company known for its high quality cutlery, hotel and hospital ware, and really beautiful early electric appliances.

The detachable cord plugs into the center of the base. The two doors are spring-loaded to clamp the bread against the guide wires and efficiently close to the heat to toast one side of each slice. Then you have to open the door, flip the slice to the other side and finish the toasting. This toaster has the deluxe feature of a built-in toast rack which keeps the finished toast warm while you are making more.

This toaster is in excellent condition with some slight wear to the plating on the rack. It comes with a detachable cord set. This is one of the few toasters that will handle half a bagel, assuming you want only the cut side toasted.
Early Toaster with Rack Mounted On Top
Universal The Brand Name Known In Every Home
New Britain Conn. U.S.A.

Shipping weight 6 Lbs.
$165
Purchase Information