The First Pop-up Toaster
This is the first automatic pop-up toaster which cooks both sides of one slice at once, then stops automatically and raises the toasted slice. No turning or burning.

It became a popular product when it hit the home market in 1926 as The Toastmaster, deemed one of the greatest all-time inventions according to American Heritage. The device was patented by Charles Perkins Strite in Stillwater, Minnesota which paired a clockworks timer and set of carbon contacts together with heating elements and a spring-loaded pop-up mechanism.

This toaster has two control levers: one pushes down to wind a spring that operates the clockwork mechanism, and the other lever lowers the bread and starts the current. In addition, there is a spring-loaded stop below the right lever to set the shade of darkness, and a small lever in between the two big levers to pop the toast up before the end of the cycle.

This one is clean and working with a new cord but the nickel plating is in rough shape, with spots of corrosion on the base. It comes with a facsimile of the operating instructions.
The First Pop-up Toaster
Produced from June 1926 to August 1930
by Waters-Genter Co. Minneapolis, U.S.A.
110 Volts 600 Watts
$55
Purchase Information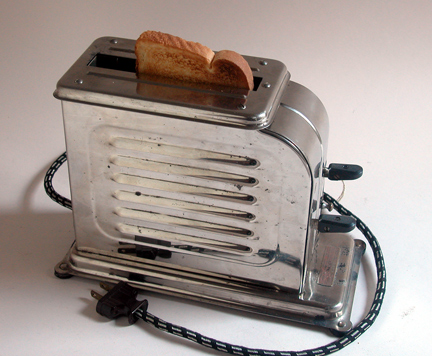 Rob in Modesto bought this model toaster (and a waffle iron) and wrote to say "I ship and receive vintage glow in the dark radios and the first indication I get of quality restoration is the care in the post and packing. Thanks for the outstanding wrapping and packaging of the waffle iron and toaster! The included magazine adds and operating instructions were a gracious addition. Apparently many vintage electrical appliances of the early twentieth century in original operating condition work splendidly and look elegant. These certainly do!"