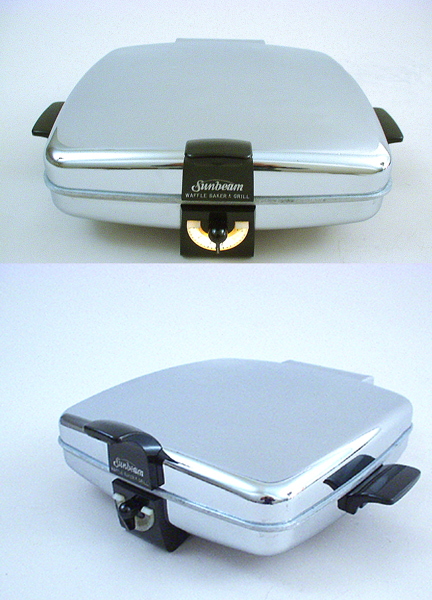 Linda in Deaver, Wyoming bought this waffle iron and wrote to say Received the waffle iron, and you were right, I am very pleased. Made perfect waffles the first time, no sticking. Its so unusual to purchase anything that exceeds my expectations for quality and value. Kudo's! Will be buying more from you in the future.
Pat in Boulder bought this waffle iron and wrote to say
I just received the Sunbeam CG. Its beautiful. You indicated that it would be in very good condition but I would consider the condition 'excellent'. It's a nice touch that you include the original owners manual. Its hard to believe that this appliance is 50 years old based on the top notch condition that it is in.
Sunbeam CG Waffle Iron
In the mid 1950s, Sunbeam restyled the popular Model W-2 waffle iron and created the sleek, modern looking Model CG. The new model retained the high quality construction of its predecessor but also featured removable cooking grids for waffles and a set of accessory grilling plates as an option. The new CG model soon became one of the best selling combination units of that period. It opens completely for two griddle surfaces with capacity for eight picture perfect flapjacks, enough for a large family or a single American champion swimmer with LOTS of gold medals.
The CG model has near commercial quality components including a sensitive, accurate temperature controller and heavy duty 1250 watt heating elements that can cook acres of waffles in minutes. An easy to see illuminated control dial takes all of the guesswork out of the baking process and frees the cook from squinting at a tiny indicator window. The outside dimension are 12.5 inches square. It weighs in at an impressive 11 pounds. Outside dimensions including handles is fourteen inches square and four and a half inches high.
Each nine inch square waffle easily breaks into quarters -- the perfect size for storing and freezing, and for quick re-heating in a toaster.
The accessory grilling plates are $55 with a CG and $65 if sold separately, and when available.
Sunbeam Corporation, Chicago, USA, Toronto, Canada
Model CG
For AC only 110-120 V 1250 W

Shipping Weight 14 pounds
(16 pounds with accessory grilling plates)
$175 in very good condition (as shown)
$225 in excellent condition
$295 in mint condition
Purchase Information
Brian in Spokane bought this model waffle iron and wrote to say
Just wanted to say that we received the Sunbeam CG Waffle Iron and it works great! Makes waffles so much better and faster than our newer machine and it even looks better! It's been a pleasure to work with your outfit!
Dennis in Humble, Texas bought this model waffle iron and wrote to say I wanted to take a few moments and let you know my pleasure with my resent purchase. It performed with radiant perfection! Now, I can once again enjoy a crispy waffle that is thicker than a slice of Brooklyn Thin Crust Pizza. What really impressed me is the condition of the waffle iron as advertised. The appliance what packed with care to insure a safe arrival and the waffle iron itself, was immaculate. This is true American Workmanship that's been lost on "throw-away" generation. Thank you for renewing my faith! God Bless You and Your Work!
Mike in Quebec bought this model waffle iron and wrote to say The waffle iron is fantastic. It has worked flawlessly. Saturday mornings are waffle mornings and my two little kids - and my wife and I - love the waffles. My two year old's limited vocabulary enthusiastically includes "wabbles"! We've hosted some brunches and our guests have been thrilled too. Once up to speed, it really kicks the waffles out at a great rate.