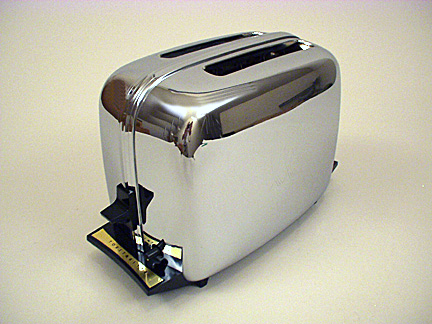 Brian in Houston bought this model toaster and wrote to say
I just wanted to let you know I received my toaster yesterday. It looks great, and it makes perfect toast. I am very pleased with it. It is nice to have the choice to buy a vintage American toaster rather than all the new ones made in China. I'll definitely look you up the next time I need another toaster or small appliance. Thank you very much,
Chris from Spring Valley, Ohio bought this model toaster as a gift for his mother and wrote to say Thanks for helping me make my 89 year old mother a very happy lady. To have perfectly even toasted thin slice bread in one easy step again after 30 years delights her with every use. The only thing wrong, according to her, is she now has to find a new pet peeve to fuss about. Thanks again,
Toastmaster from the late 1950s
This Toastmaster began production in the late 1950s and continued on into the 1960s. The basic guts are very similar to the hugely popular model that came out after WWII, but the feet and fittings were streamlined and made easier to assemble.

This sturdy toaster has a heavy steel case with chromium plating in very good condition. It is fitted with a new, replacement cord and plug, good for another decade of service.


Toastmaster Automatic Pop Up Toaster
Manufactured by McGraw-Edison Co. Elgin, Ill.
Model 1B24 110-120 Volts 10.5 Amps.
Operate on A.C. or D.C.

Shipping Weight: 9 lbs.
$198
Purchase Information
Kris in Fenton, Michigan got this model toaster as a gift and wrote to say I just received my Toastmaster 1B24 from my boyfriend as a birthday gift…. I love it!!!! And I love that it is a "Made in the USA" toaster!!
Kim and Ed in Evans, Colorado bought this model toaster and wrote to say The toaster arrived right on time and works great. It has been a long time since we had a toaster that toasts evenly on both sides! We will enjoy breakfast more from now on. Thank you again,