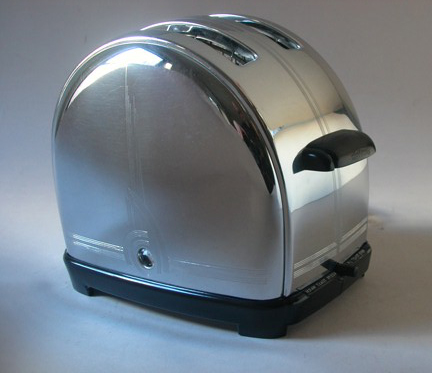 Martin in Carson City bought this model toaster and wrote to say The T9 is beautiful and the toast that it renders is crisp on the outside and moist on the inside. The preparation of toast is lost on contemporary toasters. Your integrity in this purchase is appreciated.
Bill in Brentwood, Tennessee bought this model toaster and wrote to say Last year I purchased a Sunbeam T-9 as an anniversary gift for my wife. I just wanted to tell you that she loves it, and so do I. It looks great on the kitchen counter and performs exceptionally well. What more can you ask from a toaster? We look forward to using it for many more years. Thank you so much for restoring these great old machines.
Sunbeam model T-9 automatic pop-up
Peerless for design and quality, the T-9 has an incised design surrounding a glass jewel on the face of the toaster finished with bakelite handles and base. Controls for Light/Dark, as well as "Keeps Toast Warm" or "Pops Toast Up". It has a large, easy-to-open crumb door.

This model is in the permanent design collection of several museums. And, you can have one of your own, or give one as a special gift, clean as a whistle, working as it did originally when it was brand new.

This toaster is fully refurbished and ready to enjoy every day. This is an especially good choice for customers looking for good value, a toaster not made in China, and an alternative to replacing a toaster every year or two. And on a personal note, it is the same model that got me started on Toaster Central.


Sunbeam Corporation
Chicago U.S.A. Toronto, Canada,
110-120 Volts 1100 Watts.

Shipping weight 10 Lbs.
$345 in excellent condition
Purchase Information