Sunbeam Silent Automatic Toaster, mid-1930s
You'd never know that this toaster arrived during the depression years. This statuesque, two-slice toaster is automatic but not pop-up. When the toast is done, the toasting panels turn off automatically. When you want your toast, simply raise the handle. It uses a bimetal timing mechanism rather than a clockworks hence the name "Silent Automatic."

It has been completedly disassembled, derusted, terminals cleaned, nuts and bolts replaced with stainless steel where necessary, the carriage mechanism lubricated, and the bimetal blades calibrated.

The beautiful chrome body with bakelite handles sits on an ornate bakelite base. It features a faceted glass jewel set in the front that glows orange when the toaster is in operation. It comes with a detachable cord set which plugs in at the center of the back.

The case on this one shows light scratching, consistent with being wiped down, and as is common with this model, the base has an inconsipicuous crack along a seam.


Sunbeam Silent Automatic Toaster
Chicago Flexible Shaft Company
Chicago U.S.A.
110-120 Volts 875 Watts

Shipping weight 10 Lbs.
$250
Purchase Information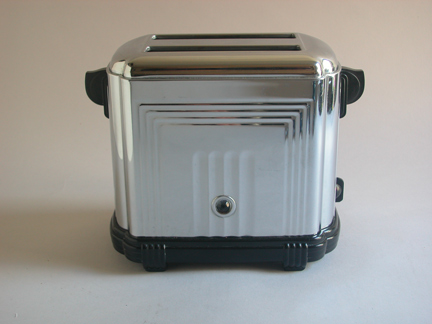 Laureen in Port Angeles bought this model toaster and wrote to say Thank you for the best toaster ever! It is gorgeous!
Patty in Burlington, Indiana bought this toaster and wrote to say Your beautiful Sunbeam Silent Automatic toaster arrived safely yesterday and it's a work of art; I can't stop admiring it. And to think, this beauty even makes toast! To say I'm thrilled with this purchase is an understatement.