Nickie in Rifle, Colorado bought this model percolator and wrote to say I received my sunbeam percolator coffee pot and it is beautiful! :) The coffee is delicious too! It is wonderful to have a great cup of coffee again. I incourage anyone who is wondering about this coffee pot to give it a try, they will be glad they did. It is a joy to bring back a piece of American History to our kitchen.
Sunbeam Percolator
We've sold a truckload of Sunbeam waffle irons and toasters and deep fryers, and the magnificent quality of this percolator matches other Sunbeam appliances, not the least of which was the Mixmaster, and electric iron.

The percolator has a nice backlit control dial where you can select the type of brew you prefer, fill the pot with cold water, measure the coffee into the basket, using the proper grind for percolators, then insert the basket and seat the stem into the well. Plug it in, and wait for the lighted dial to change and percolating to stop. Delicious fresh coffee, and that wonderful aroma.

It has a wonderful incised design on the front that matches the Sunbeam toaster.

This one is in very good condition and comes with a detachable cord set and a facsimile of the original papers.
Sunbeam Automatic Percolator

Shipping Weight: 7 Lbs.
$95
Purchase Information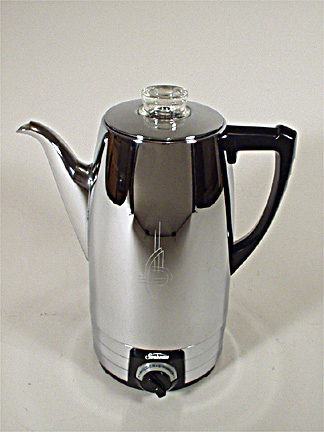 Eric in New Orleans bought this model percolator and ordered another one. My percolator works flawlessly and the result is absolutely the best coffee that I have ever brewed in my home. The rich aroma alone takes me back to my childhood in Louisiana where my grandfather started every day with his own well-used percolator. Thanks a million!
Michele in Friendswood, Texas bought this model percolator and wrote to say Used the percolator for the first time today. It was fabulous! I am very, very pleased.
Jan in Astoria, Oregon bought this model percolator and wrote to say Just to let you know that the Sunbeam percolator arrived safely this afternoon. What a treat to have an appliance made in this country and not in China. Who would have known that these coffee makers would be a prize to have in the kitchen? Thank you so much for caring about these wonderfully made appliances and allowing those of us who appreciate the older things in life to have them once again in our possession. We will cherish our Sunbeam. Many, many thank yous.
Joel and Candace in Point Roberts, Washington bought this model percolator and wrote to say Thank you!! The Sunbeam percolator arrived safe and sound yesterday. It is just super! It runs perfectly & makes delicious coffee. We are thrilled to have such a beautifully crafted appliance NOT made in China! We are so impressed with it, that I think we need to look into buying the Kitchen Aid coffee grinder.