Hankscraft 815 Orange Egg Cooker
The interior of the cooker has only one removable part, the flat ring that holds the eggs. Beneath that is the well to contain the water.

Instructions for use are attached to the bottom of the cooker. Measure the proper amount of water and put it in the well, add the flat ring and eggs, put on the cover, plug it in, and wait for it to turn off automatically. Presto, you've got soft boiled eggs just the way you like them, from very runny to hard boiled.

This cooker is like new. But, please note that it is difficult to judge the hue of color on a computer monitor, especially this shade of orange.
Hankscraft 815 in Orange
Model 815
115 Volts A.C. 6 Amperes

Shipping Weight: 6 Lbs.
$125 in mint condition with original hangtag
Purchase Information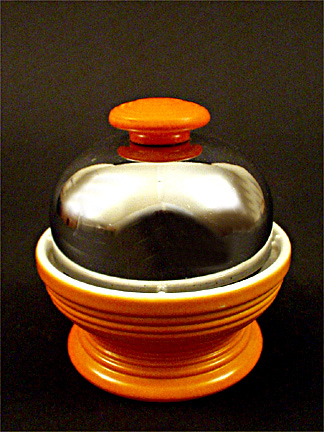 Uday in Toronto bought this model egg cooker and wrote to say Just got the egg cooker. Works exactly like it is supposed to, and it looks fantastic. Thanks so much!